Climbing or ''escalade'' in French is a sport that builds your body, but also your personality and mind. Just as integral coaching addresses individuals and issues at emotional, somatic and rational level, sport does it as well. Climbing is my passion and a great tool to shape mind and behavior, an integral sport of many traits, but certainly not the only one.
Trust and partnership
Climbing builds trust, partnership, physical shape and focus, but demands as well high levels of communication engagement. Whilst extreme climbers go alone on the mountain, traditional wall climbers envisages 2 people climbing in turns with one belaying the other. It means a trustful relationship exists or builds before leaving the ground and giving your life in the hands of another. To reinforce trust, partners watch carefully the tying of ropes and cross check each other for security and common sense rules. Communication is critical, many times unforeseen situations require clear spot-on messages from the climber to the person on the ground; ensuring a disciplined sequence of steps such as calling the person to ensure attentiveness and availability, passing the message and then waiting for recipient confirmation ensures progress throughout the route in a safe manner.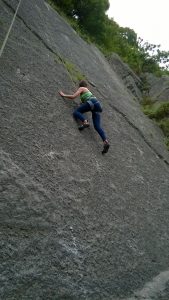 Focus and concentration
As each move requires exquisite attention to mountain detail, position of hands and legs preferably in equilibrium, preemption of next moves, focus on the breath for body stability and self-regulation are critical. This is quite similar to a business meeting or professional conversation where attention to detail and helicopter view at the same time, balanced approach and self-regulation are all pre-requisites.
Agility
On the route you learn to be agile and put the puzzle together. Not all moves and grips are intuitive immediately. Some require deep thought process of few moves before and ahead to see the ensemble and find the most convenient solution. Some other require fast move through the grips to reach a position where you can rest for couple of seconds after taking a more risky attempt. Climbing teaches and illustrates qualities such as patience, resilience, presence, balance and agility, useful in sports but real life too.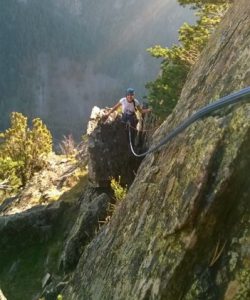 Joy and bedazzlement of simple things
Towards the end of the route, you may be amazed by the top mountain view, the closeness to the sun and the celebration of achievement in partnership. Sport is a great tool to discipline mind and shape simple concepts like balance, clear communication or concentration. The climbing experience and related associations have served me as metaphors in real life,s both personally and professionally; I  invite you to search bring about such experiences in your life too and use them not only from physical activity perspective but as model for integral behavior both adult and child level.